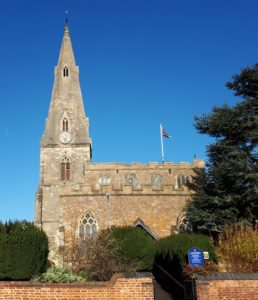 St Peter's church is the oldest building in Oadby, standing since the 14th Century. It provides a focal point for the whole community. The bells are rung regularly to call the faithful to prayer. Come and join us for worship services or community events open to all.
Across the road is St Peter's Centre which is used by many community groups on a regular basis.
The Parish Office is also located in the Centre. It provides services and support for all the Anglican churches in the Oadby-Glen Benefice.
St Peter's is a vibrant church with a warm sense of belonging within the Oadby community of South Leicester.  These pages offer a glimpse of the vitality and depth of spiritual life and service to the people of Oadby and beyond.
If you would like to visit our church in person, you are assured of a warm welcome.  If you have links with the parish, for example, through baptism or marriage, we would love to hear from you.
---
If you have a safeguarding concern, then please contact our local Safeguarding Co-ordinator, Mrs Juliet Bewley or Revd Liz Wilson. Their details are available from the Parish Office (0116 2720080).
---
If you wish to speak to the Diocesan Safeguarding Team, or to someone outside the church, their contact details are available
here
---
May God the Creator bless you.
May God the Son walk with you.
May God the Spirit lead your lives with love.  Amen